Cover/Trapsheet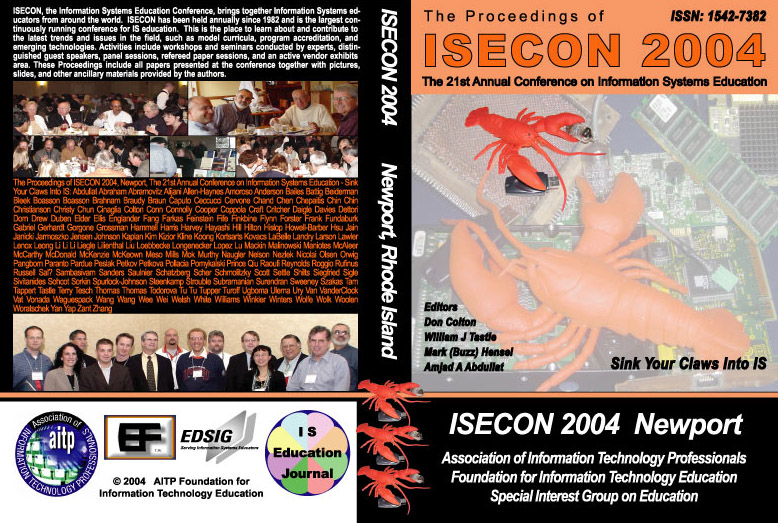 The Proceedings of ISECON 2004, ISSN: 1542-7382, The 21st Annual Conference on Information Systems Education
Editors: Don Colton, William J Tastle, Mark (Buzz) Hensel, Amjad A Abdullat
Sink Your Claws Into IS
ISECON 2004 Newport, Association of Information Technology Professionals, Foundation for Information Technology Education, Special Interest Group on Education
(spine) ISECON 2004, Newport, Rhode Island
(back) ISECON, the Information Systems Education Conference, brings together Information Systems educators from around the world. ISECON has been held annually since 1982 and is the largest continuously running conference for IS education. This is the place to learn about and contribute to the latest trends and issues in the field, such as model curricula, program accreditation, and emerging technologies. Activities include workshops and seminars conducted by experts, distinguished guest speakers, panel sessions, refereed paper sessions, and an active vendor exhibits area. These Proceedings include all papers presented at the conference together with pictyures, slides, and other ancillary materials provided by the authors.
logos: AITP, EF, EDSIG, ISEDJ
copyright 2004, AITP Foundation for Information Technology Education and AITP-EDSIG (Education Special Interest Group)
Cover art by Don Colton and Leslie Fife. The lobster, representing IS Education, is holding a vacuum tube in one claw, and a USB memory stick in its other claw, representing the merger between the past and present. In the background there can be seen various computer hardware artifacts of the past and present.
Don Colton [a1] [a2]
ISECON 2004 Proceedings Editor
Brigham Young University Hawaii [u1] [u2]
Laie, Hawaii, USA [c1] [c2]

Leslie Fife [a1] [a2]
Front Cover Photography
Brigham Young University Hawaii [u1] [u2]
Laie, Hawaii, USA [c1] [c2]


Comments and corrections to
webmaster@isedj.org